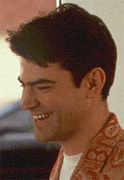 RON LIVINGSTON'S FILMOGRAPHY
LITTLE BLACK BOOK (2004) Buy: (DVD) (Canadians - DVD)
Cast: Brittany Murphy, Holly Hunter, Ron Livingston, Julianne Nicholson, Stephen Tobolowsky, Kevin Sussman, Kathy Bates. Director: Nick Hurran. Writers: Melissa Carter, Elisa Bell.
WINTER SOLSTICE (2004)
Cast: Anthony LaPaglia, Aaron Stanford, Mark Webber, Allison Janney, Ron Livingston. Director: Josh Sternfeld. Writers: Josh Sternfeld.
This film has been playing the film festival circuit and will have a limited release in theatres this spring (2005).
CELEBRITY POKER SHOWDOWN (July 15, 2004)
DINNER FOR FIVE (April 9, 2004)
THE COOLER (2003) Buy: (DVD) (Canadians - DVD)
Cast: William H. Macy, Alec Baldwin, Maria Bello, Shawn Hatosy, Ron Livingston, Paul Sorvino, Estella Warren. Director: Wayne Kramer. Writers: Frank Hannah, Wayne Kramer.
CELEBRITY POKER SHOWDOWN (Dec. 23, 2003)
JIMMY KIMMEL LIVE (Dec. ?, 2003)
KING OF THE ANTS (2003) Buy: (DVD) (Canadians - DVD)
Cast: Chris McKenna, Kari Wuhrer, Daniel Baldwin, George Wendt, Timm Sharp, Ron Livingston. Director: Stuart Gordon. Writers: Charlie Higson.
LATE NIGHT WITH CONAN O'BRIEN (July 19, 2003)
44 MINUTES (Premiered June 1, 2003 on FX) Buy: (DVD) (Canadians - DVD)
Cast: Michael Madsen, Ron Livingston, Mario Van Peebles. Director: Yves Simoneau. Writer: Tim Metcalfe.
Mini-Review: A representative of the FX network was kind enough to send along an advance copy of 44 MINUTES, so I thought I'd offer a few thoughts on the movie, which is based on a real-life shootout between bank robbers and police officers that took place in North Hollywood. What the film does most successfully is capture a sense of the shootout itself. The hail of bullets seems to go on forever and it's terrifying to watch a pair of human beings that have no reservations about opening fire on police officers and civilians alike. Because the centerpiece of the movie is the shootout, character development has to be done fairly quickly, and this is accomplished with the help of documentary-style interviews. I would have preferred less camera and editing tricks during these segments. Switching from a close-up to an even-more-close-up can be interesting in the right context, but when a character is alone on-screen and simply speaking, it's more distracting than anything. The police officers played by Michael Madsen and Ron Livingston end up being quite well-drawn, and the actors give understated performances that help keep the movie from becoming overwrought. Mario Van Peebles' religious cop doesn't fare quite as well with a storyline in which he convinces a young thug to straighten up. It seems especially forced and doesn't lend much to the proceedings. Overall, I enjoyed the film and found it to be well-executed, so by all means, check it out!
SEX AND THE CITY (2002-2003) Buy: (Season 5 DVDs / Season 6, Pt. 1 DVDs) (Canadians - Season 5 DVDs / Season 6, Pt. 1 DVDs)
Regular Cast: Sarah Jessica Parker, Kim Cattrall, Kristin Davis, Cynthia Nixon.
Ron Livingston guest-starred on eight episodes of HBO's popular comedy playing Jack Berger, Carrie's (Sarah Jessica Parker) novelist love interest.
ADAPTATION (2002) Buy: (DVD) (Canadians - DVD)
Cast: Nicolas Cage, Meryl Streep, Chris Cooper, Cara Seymour, Tilda Swinton, Ron Livingston, Maggie Gyllenhaal. Director: Spike Jonze. Writers: Charlie Kaufman, based on the book by Susan Orlean.
BUYING THE COW (2002) Buy: (DVD) (Canadians - DVD)
Cast: Jerry O'Connell, Bridgette Wilson, Alyssa Milano, Ryan Reynolds, Ron Livingston, Annabeth Gish, Bill Bellamy. Director: Walt Becker. Writers: Walt Becker, Peter Nelson.
Jerry O'Connell (Ron Livingston's BODY SHOTS co-star), plays a man who is being pressured into marriage by his girlfriend (Bridgette Wilson). While trying to decide whether he's ready to make the leap, he enlists the aid of his fellow bachelor friends, played by Ryan Reynolds and Bill Bellamy. Ron L. plays Tyler, a friend of the guys' whose unexpected engagement sets off the chain of events.
A RUMOR OF ANGELS (2002) Buy: (DVD) (Canadians - DVD)
Cast: Vanessa Redgrave, Ray Liotta, Trevor Morgan, Ron Livingston, Catherine McCormack. Director: Peter O'Fallon. Writer: James Eric, based on the book by Grace Duffie Boylan.
DINNER FOR FIVE (April 29, 2002) Buy: (DVD) (Canadians - DVD)
POLITICALLY INCORRECT WITH BILL MAHER (January 25, 2002)
Ron Livingston was a guest on this late-night roundtable with Elizabeth Perkins, Pam Stenzel, and Dane Cook. Click HERE for a transcript.
THE PRACTICE (2001-2002)
Regular Cast: Dylan McDermott, Michael Badalucco, LisaGay Hamilton, Ron Livingston, Camryn Manheim, Marla Sokoloff, Kelli Williams, and Lara Flynn Boyle. Directors include Steve Miner, Stephen Cragg, Duane Clark, and Michael Pressman. Writers include David E. Kelley, Stephen Gaghan, Wendy West, and Jonathan Shapiro.
Ron Livingston briefly joined the cast of David E. Kelley's award-winning, long-running legal drama as Assistant District Attorney Alan Lowe. In his cases, he developed an adversarial relationship with the defense firm headed by Bobby Donnell (Dylan McDermott). Working alongside fellow ADA Helen Gamble (Lara Flynn Boyle), Lowe is willing to get his man by any means necessary.
THE LATE LATE SHOW WITH CRAIG KILBORN (September 21, 2001)
Ron Livingston was a guest on this late-night talker to promote BAND OF BROTHERS. Some of the topics touched on: The present relevance of BAND OF BROTHERS, lean days in Chicago when he and fellow actor Jon Favreau had a job wearing giant Cap'n Crunch suits, and what people say to him about OFFICE SPACE.
BAND OF BROTHERS (September/October 2001) Buy: (DVDs) (Canadians - DVDs)
Cast: Damien Lewis, David Schwimmer, Ron Livingston, Donnie Wahlberg, Scott Grimes, Frank John Hughes. Directors include Tom Hanks, Phil Alden Robinson, and Mikael Salomon. Writers include Tom Hanks, Graham Yost, and Erik Bork, based on the book by Stephen Ambrose.
A 10-part HBO miniseries based on Stephen Ambrose's non-fiction bestseller about World War II. The story follows a company of soldiers through their training, parachuting into France on D-Day, and finally capturing Hitler's chalet at Berchtesgaden. Ron L. received a Golden Globe nomination for Best Supporting Actor - TV for his work in BAND OF BROTHERS.
[UNTITLED ABC DOT-COM PILOT](2001, unaired)
Cast: Ron Livingston, Leslie Stefanson, Jon Tenney, Kristy Swanson, Jared Harris, Kate Hodge.
TWO NINAS (2001) Buy: (DVD) (Canadians - DVD)
Cast: Cara Buono, Amanda Peet, Ron Livingston, Bray Poor, Linda Larkin, Jill Hennessy. Director: Neil Turitz. Writer: Neil Turitz.
Marty (Ron Livingston) is an unlucky guy who gets a taste of good fortune when not one, but two beautiful women named Nina (Cara Buono and Amanda Peet, Ron L.'s BODY SHOTS co-star) fall head-over-heels in love with him. The film is quite engaging, with a great central performance by Ron L. and character support from Bray Poor as his womanizing best friend Dave. Highly recommended.
BEAT (2000) Buy: (DVD) (Canadians - DVD)
Cast: Courtney Love, Norman Reedus, Ron Livingston, Kiefer Sutherland, Daniel Martinez, Kyle Secor. Director: Gary Walkow. Writer: Gary Walkow.
Ron Livingston plays legendary beat poet Allen Ginsberg in a film based on the real-life relationships between William S. Burroughs (Kiefer Sutherland), Lucien Carr (Norman Reedus), Burroughs' wife Joan (Courtney Love), and Allen Ginsberg, prior to their fame during the Beat Generation.
THEN CAME YOU: "THEN CAME COUSIN AIDAN" (April 19, 2000)
Regular Cast: Susan Floyd, Thomas Newton, Miriam Shor, Desmond Askew, Winston Rochas, Colin Ferguson.
Ron Livingston guest-starred on this ABC sitcom as Max, a famous writer whose first novel was a runaway success, but subsequently led to a breakdown. When editor Billie (Susan Floyd) gets the chance to publish his next book, she's excited by the prospect, but unwittingly becomes the object of Max's affections.
DILL SCALLION (1999)
Cast: Billy Burke, David Koechner, Lauren Graham, Kathy Griffin, Jason Priestley, Peter Berg, Henry Winkler, Robert Wagner, Ron Livingston. Director: Jordan Brady. Writer: Jordan Brady.
An mock documentary about an aspiring country singer named Dill Scallion (Billy Burke). I'm guessing Ron L. has a fairly small role as a character named Ron Statlin.
BODY SHOTS (1999) Buy: (VHS / DVD) (Canadians - VHS / DVD)
Cast: Sean Patrick Flanery, Jerry O'Connell, Amanda Peet, Tara Reid, Ron Livingston, Brad Rowe, Sybil Temchen. Director: Michael Cristofer. Writer: David McKenna.
A group of twentysomethings discuss and explore the many facets of love and sex, with each other and straight to the camera, as they spend a wild night on the town. However, things take an ugly turn in the morning when the characters are forced to deal with a rape accusation.
Ron Livingston portrays the most comedic character, Trent, a sexually adventurous businessman generally disdained by the others for his outlandish actions and fashion sense. He more or less steals the movie with some hilarious moments and a voice characterization to match. The film's other selling points are snippets of a moody score by Mark Isham and an able cast, but otherwise, it's borderline pornographic in parts and mostly unsettling.
THE BIG BRASS RING (1999) Buy: (VHS / DVD) (Canadians - VHS / DVD)
Cast: William Hurt, Miranda Richardson, Nigel Hawthorne, Irene Jacob, Ewan Stewart, Gregg Henry, Ron Livingston. Director: George Hickenlooper. Writers: F.X. Feeney & George Hickenlooper from an earlier screenplay by Orson Welles & Oja Kodar.
This movie is best known for its source, namely a screenplay by Orson Welles that was previously adapted into a short film also titled THE BIG BRASS RING. It tells the story of a governerial candidate, Blake Pellarin (William Hurt), whose past begins to catch up to him on the campaign trail. The tale has its share of interesting plot twists, but the whole thing is quite grim and graphic.
Ron Livingston's character, Sheldon Buckle, is a bodyguard for Blake Pellarin and has very limited screen time. However, this is his third collaboration with director George Hickenlooper (the first two having been SOME FOLKS CALL IT A SLING BLADE and THE LOW LIFE).
OFFICE SPACE (1999) Buy: (VHS /DVD) (Canadians - VHS / DVD)
Cast: Ron Livingston, Gary Cole, Stephen Root, David Herman, Ajay Naidu, Jennifer Aniston, Diedrich Bader. Director: Mike Judge. Writer: Mike Judge.
Peter Gibbons (Ron Livingston) is a computer programmer who despises the monotony of his job and his "unholy" boss (Gary Cole). But a life-changing hypnosis session gives him a whole new outlook on life, and he begins neglecting his job, doing as he pleases, and pursuing a relationship with the waitress he holds a torch for (Jennifer Aniston). When he decides that he'd like to be out of the cubicle world for good, he enlists his two best friends (David Herman, Ajay Naidu) in a fail-safe (or is it?) plan.
This movie is one of my favorite comedies, and it also provides a great showcase for Ron L., who gets to play the leading man for once.
THAT'S LIFE (1998)
Regular Cast: Gerry Red Wilson, Kellie Overbey, Pauley Perrette, Ron Livingston, Michael Charles Roman. Director: Michael Lembeck. Creator: Eric Gilliland.
A genuinely funny sitcom about a Queen's butcher (the late Gerry Red Wilson) whose life is turned upside down by the arrival of his uptight sister-in-law (Nadia Dajani) and her precocious son (Michael Charles Roman). Lending him support are his spirited wife (Kellie Overbey), his other sister-in-law Lisa (Pauley Perrette), and his dimbulb best friend/Lisa's boyfriend Mitch (Ron Livingston).
ABC saw fit to cancel the series after only five episodes (with one unaired), which was truly a pity. Ron L. was very funny in his role, although much more underused than he was in TOWNIES.
PLAYERS: "CON LAW" (October 24, 1997)
Regular Cast: Ice-T, Costas Mandylor, Frank John Hughes, Mia Korf.
Ron Livingston guest-starred on an episode of this short-lived NBC action series, which revolved around the crime-fighting exploits of three ex-cons trying to go straight (Ice-T, Costas Mandylor, Frank John Hughes).
CAMPFIRE TALES (1997) Buy: (VHS) (Canadians - VHS)
Cast: Christine Taylor, Kim Murphy, James Marsden, Christopher Masterson, Ron Livingston, Jennifer MacDonald, Devon Odessa, Alex McKenna, Jacinda Barrett, Amy Smart, Hawthorne James, etc. Directors: Matt Cooper, Martin Kunert, David Semel. Writers: Martin Kunert, Eric Manes, Matt Cooper.
A group of teens end up stranded when their car breaks down, and decide to pass the time by telling each other horror stories. Ron Livingston and Jennifer MacDonald star in the first of the three stories as a newlywed couple whose trailer is sabotaged on their way to their honeymoon locale and are warned by a mysterious stranger (Hawthorne James) about the evil that lurks about.
One thing that I must get out of the way is that this is a terrible movie, gratuitous in every possible way and really quite uninteresting. If you must, watch Ron L.'s segment alone, then shut it off.
TOWNIES (1996)
Regular Cast: Molly Ringwald, Jenna Elfman, Lauren Graham, Ron Livingston, Billy Burr, Lee Garlington, Dion Anderson, Conchata Ferrell, Joseph D. Reitman. Director: Pamela Fryman.
Three friends (Molly Ringwald, Jenna Elfman, Lauren Graham) work as diner waitresses in small-town Gloucester while while dreaming of getting out. Control-freak Carrie (Molly Ringwald) tries to keep it together while trying to convince her best friend since childhood, Curt (Ron Livingston), that she just wants to stay friends. Denise (Lauren Graham) juggles married life, a baby, and a job while being perpetually jealous of the relatively easygoing Shannon (Jenna Elfman), known mainly for
This ABC sitcom lasted only 10 episodes before getting the boot (with a few unaired). Though far from perfect, it had its charms and some decent laughs. Ron Livingston exhibited his fine comic timing and also got considerable screen time with some good storylines.
SWINGERS (1996) Buy: (VHS / DVD) (Canadians - VHS / DVD)
Cast: Jon Favreau, Vince Vaughn, Ron Livingston, Patrick Van Horn, Alex Desert, Heather Graham. Director: Doug Liman. Writer: Jon Favreau.
Jon Favreau plays Mike, a struggling actor whose move to Los Angeles has also left him with a broken heart. In an effort to get him out of his funk, his suave friend Trent (Vince Vaughn) shows him the nightlife while dispersing the cardinal rules of dating. Joining Mike and Trent are Mike's best friend from back home, Rob (Ron Livingston), fellow aspiring actor Charles (Alex Desert), and a boy names Sue (Patrick Van Horn).
SWINGERS is a very funny and clever film. Ron L. has some great moments, especially Rob's understated monologue about his own difficult breakup.
JAG: "SCIMITAR" (December 9, 1995)
Regular Cast: David James Elliott, Tracey Needham. Episode director: John McPherson. Episode writer: Robert Cochran.
Ron Livingston guest-starred on an episode of this legal military drama as Corporal David Anderson, a marine who mistakenly crosses the Iranian border and is imprisoned when he tries to leave. Lieutenants Harm and Austin (David James Elliott and Tracey Needham) are sent to Iraq to defend him on an espionage charge while they try to help him escape.
THE LOW LIFE (1993)
Cast: Rory Cochrane, Sean Astin, Kyra Sedgwick, Ron Livingston, Christian J. Meoli, Sara Melson, James LeGros, J.T. Walsh. Director: George Hickenlooper. Writers: George Hickenlooper, John Enbom.
A budding writer named John (Rory Cochrane) moves to Los Angeles, gets an odd new roommate (Sean Astin), and meets an enigmatic woman (Kyra Sedgwick). Ron Livingston's character Chad is a friend and co-worker of John's. [I haven't seen this film in a while and will have to review it in order to make further remarks.]
SOME FOLKS CALL IT A SLING BLADE (1993) Buy: (DVD) (Canadians - DVD)
Cast: Billy Bob Thornton, Molly Ringwald, J.T. Walsh. Director: George Hickenlooper. Writer: Billy Bob Thornton.
George Hickenlooper directed this short film (25 minutes) that provided the basis for the Academy Award-winning movie SLING BLADE. Both star Billy Bob Thornton as Karl Childers, a mentally challenged killer being released from a mental institution. In this first incarnation, Molly Ringwald plays a reporter assigned to interview Karl before his release and is obviously shaken by it.
Ron Livingston is listed as part of the ensemble, although I didn't see him on-screen. I believe I heard his voice at one point, but that could have been my imagination. Ron L. would later reunite with Hickenlooper for THE LOW LIFE and THE BIG BRASS RING. Even if this film isn't your cup of tea, it's so short that it hardly matters. I myself found it to be quite worthwhile, although I haven't yet seen the feature version.
STRAIGHT TALK (1992)
Cast: Dolly Parton, James Woods, Griffin Dunne, Michael Madsen. Director: Barnet Kellman. Writers: Craig Bolotin, Patricia Resnick.
Dolly Parton stars as Shirlee, a small-town dance instructor who longs to head escape to the big city and live her life. When she finally ends up in Chicago, she is mistaken for a radio psychiatrist and becomes an overnight sensation with her no-nonsense approach.
Ron Livingston appears very briefly at the beginning of the movie as a soldier getting a dance lesson. Blink and you'll most definitely miss it.